How often do you get an email confirmation request when you subscribe or sign up for some service? A wild guess – as often as any of us these days. We all get such emails on a daily basis subscribing for news, updates and registering new accounts.
For those of you, who don't yet know that this process has a name, a particular function and is regulated legally by the regional laws (to the point your business may have to pay a handsome fee for skipping this procedure), this article is going to be a revelation. For the rest, it's just gonna be good news because we at REES46 now provide you with a Double Opt-in option.

Ready to begin? Let's delve into the basics!
So, What Does Double Opt-in Mean?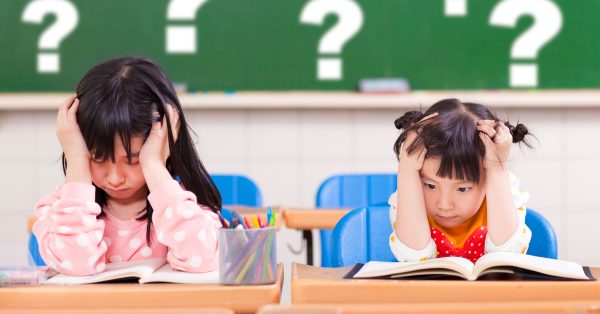 In short, double opt-in is a two-step confirmation of your subscription.
The first time, the future subscriber submits an email and a full name to the web-based form, this data is sent to the email list software. After the initial request is received, it sends this person a confirmation email. The email contains a link the recipient must click to confirm his subscription request.

For example, John Doe wants to get the REES46 newsletter. John types his first and last name, his email and clicks the subscription button. This is the first opt-in. Our email software then sends John back a confirmation email asking John to click the link to confirm his subscription. This is the second opt-in.
One Step Is Easier. Why Is Double Opt-in Important?
There are several reasons why double opt-in is necessary, but there are few why it is essential in the modern world. This procedure confirms that the person, who entered the email, is the owner of the email. If this information is not present, anybody could subscribe anybody.
Also from the subscriber's perspective, double opt-in brings additional security and ensures you didn't sign up for the newsletters by mistake.
From the email list owner's perspective, it secures real subscribers, who want to be on your list. If you use a single opt-in method, you can end up with a low-quality email list full of people, who didn't want to be in it. These people will never respond to what you're offering as they are not your target audience.
Fewer "SPAM" Complaints And No SPAM Penalty
AAll online stores get unsubscribers and "SPAM" complaints. It's in the human nature to avoid irritating content. People are inclined to mark as SPAM everything that smells even a tiny bit fishy.
You can write "CLICK TO UNSUBSCRIBE" in big colorful letters, right at the top of an email. You can explain there in details how informative your newsletters are and how people can terminate their subscription in one click, a lot will still click "Mark as spam" and get rid of you.
Using double opt-in you can decrease these situations to a minimum. Clicking on the confirmation link in a new email is the agreement and binds the customer to you. And it's easier to prevent falling into a spam list than getting out of it.
The final point is being a subject to the law system of your country or region you must protect yourself from possible hefty fees and lawsuits requiring expenses on legal representatives. Nobody in the right mind would give the go-ahead to something that would in the future cause million-dollars-worth losses. Especially when the safe path is only a hundred dollars away.
How to Set Up Double Opt-in
To enable double opt-in for REES46 Suite you need to:
Choose your regional Anti-Spam regulation:

Click "Save" to confirm your choice.


Now it's ready to work. You can edit the default template to make it say what you want. It is right there, in the "TRIGGER EMAILS" widget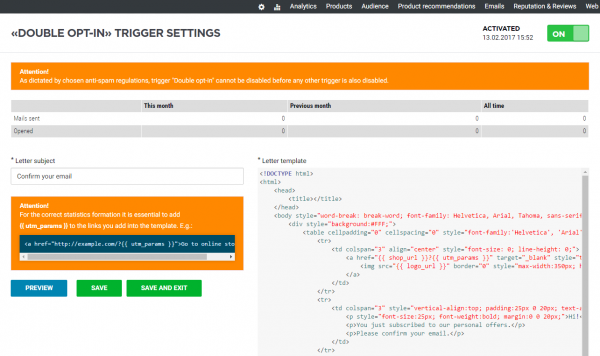 REES46 default double opt-in emails look like this:
Save Your Time and Money
In this ever-going world of digital marketing, online stores and blogs quite often have attacks from spam bots, and we bet you are not surprised when you see again a hundred new emails in your list in a 24 hours period. Thankfully, these emails have never been confirmed, and the integrity of your email list is not compromised!
If you are serious about your email marketing automation, you should be aware of the ways to stay safe and efficient with double opt-in. REES46 is a guarantee of effective email marketing with as many as ten smart trigger workflows fully protected by the double opt-in option.