UGC stands for user-generated content i.e. the content created by the user. You cannot underestimate its value in modern eCommerce – today each type of UGC is itself a useful conversion tool.  You can convert via product reviews, seller ratings, even via hashtagged photos, video reviews and contest materials from your audience.
Let's focus on the main three types of UGC: photos, video and written reviews.


Instagram Photos
Every day Instagram users generate more than 50 million photos. This social network is booming right now thanks to the simplicity of the publishing process: take a photo, add #hashtags, gain likes.
Reasons to Use
Instagram account promotion is not the only way to profit from this channel. You can also build loyalty and trust encouraging your customers to publish hashtagged happy photos where they are enjoying their purchases.  You can launch campaigns yourself reaching out to some loyal customers for these photos in return for a discount coupon and publishing them in your channel. This is a wonderfully easy way to build a strong brand image and solve the trust issue for the newcomers.
Is this an effective strategy? According to the Wayin research, conversion growth shows an additional +25% for user pictures over professional, brushed-up product photosets.
Case #1
Frank Body beauty store encourages its buyers to post photos prior to and after an application period. Then it reposts them to its public Instagram. Would you disagree they make you trust the product more than professional, brushed-up photosets?
Case #2
Thermomix Kitchen Appliances manufacturer uses Instagram photos to illustrate the success of its new recipes published on its forum This kind of content directly tells the reader "Yes, you really CAN cook this using our kitchen appliances". No glossy magazine pictures, just real stories:
Case #3
Kira Frace yoga clothes adds a photo of a customer wearing the items to each product detail page.Future buyers are empowered to see how it will fit and look in reality. The store builds trust and gains new buyers with no additional expenses. A win-win!
Case #4
ASOS fashion retailer allocated a whole "#AsSeenOnMe" page where it shows people wearing the sold items in different settings. The customers can upload more pictures from the site to both show their purchases and help others to choose. The store equally gains from it – visitors can immediately see if they like the item and purchase it.
Instagram photos are a must in modern eCommerce marketing, but what else can you profit from?
Video Reviews
Today, there are so many video-sharing websites: Youtube, Vimeo, Vine, Instagram, Facebook – the list goes on.
Reasons to Use
Photos are helpful, but sometimes you need a better view, from different angles.  For example, if you are selling a gadget or appliance it is incredibly helpful for potential buyers to see how the product works and how easy it is to use. Video reviews on your site solve a multitude of issues. For example, you can enrich your product pages with genuine video reviews to build trust for the product. You can also tell your future customer about your company. You can reassure your future customers about the quality of your services such as delivery, order processing and so on.
Video is becoming increasingly important in the social media marketplace. In 2016 Facebook updated its news feed algorithms to give priority to live video.  More recently Facebook announced that longer videos which are watched all the way through will be given a higher priority in newsfeeds.
Case #1
Amazon worldwide retailer uses customer video reviews to stimulate purchases. Every customer can upload a new video review from their site. Their biggest video trend now is the unboxing.
Case #2
If you're still growing your audience and unable to get enough video reviews, it's safe to assign one of the employees to this task. This was what Right Channel Radios store did. Sure, these reviews are only partially UGC, but with the videos, you can't go wrong – they are meant to be informative and detailed, and it doesn't matter who makes them as long as they are helpful:
Case #3
Another example of the power of UGC videos is the reviews from famous video bloggers. Wunder2 beauty store has an ongoing partnership with such famous video bloggers such as Judy Travis. Each review from Judy gets hundreds of thousands of views and provides the store with a steady flow of new customers:

The most accessible kind of UGC is the customer review. You don't have to chase your customers to get new photos, and your customers are given a voice to speak their mind. Just ask them to snap a video, maybe provide bonus points for it, and publish it on your site!
Genuine Customer Reviews
It's almost impossible to imagine a modern online store without customer reviews. But there is the other side of it – customers have become more savvy. They know reviews can be faked.
To build trust, modern retailers use professional trustworthy services to ensure the integrity of the reviews – services like REES46 Reputation & Reviews. They operate by transparent and safe principles: only your genuine customers can have a link to rate your store and write a review.
Reasons to Use
UGC-reviews and ratings increase your KPIs. You can expect an increase in conversion, AOV, ARPU, lower return and chargeback rates and other important KPIs – it'll all be UGC. Did you know that statistically, 63% of all customers prefer purchasing products which have been peer-reviewed?
What is more, written reviews are easier for your customers to create – time to sit and think, change the review, later on, no continuous takes or re-watching to find if you look good in the video. And they are easier for you to collect and manage – no scattered hashtagged photos across the whole of Instagram.
Cases
Almost every well-known online store uses customer reviews. The number is huge, there is no point in making a list. Years of experience in this field have turned into a perfect formula which looks like this: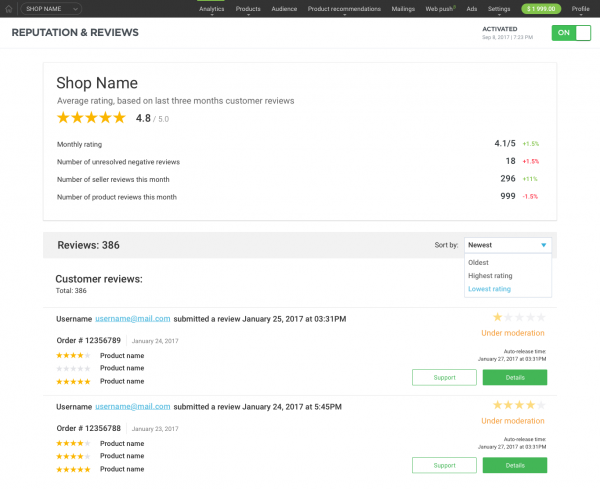 Besides the text, UGC review systems show:
Star rating

Pros and cons related to the product

Best and worst rating reviews

Various sorting orders: last week, month, selected date, etc.

"Quality of service"- reviews for the seller
Customer reviews are like an honest worker that comes in on time, always delivers well and doesn't ask for a raise. If you are at the beginning of your UGC experience, we recommend you start with them.
How to Motivate Customers?
Consider REES46 Reputation & Reviews: each customer with a completed and delivered order gets an automatic Thank You letter with the star rating button-links to submit a review.
Photos and videos are a hassle for beginners.
Firstly, your ratings and products need to be good enough for people to want to share. Typically, you must be an Apparel & Accessories, Cosmetics & Beauty, Baby & Kids (fashion and toys mostly) and Consumer Electronics store to excite people enough to make and publish a photo or a video. A scenario where you you're selling baby formulas and get tonnes of new photos on Instagram is very unlikely to happen. So choose wisely!
Secondly, think up a good hashtag, like #poweredbyrees46 to be able to trend and find all the related photos. Make it trend! Contests are a very good way to do it.
Thirdly, update your site to allow people to upload their photos and videos. Allocate a special page and include a small story – how this page helps other people and your publishers. Include the rules for this "campaign". Add a small FAQ section.
Last but not least, reward your active publishers! It can be attention – a warm "thank you" – or it can be a discount coupon. You decide.
UGC has a power no one should underestimate. Even if your store is not so big and you wonder if you're ready for the next level, you can always rely on automated feedback management via customer reviews.