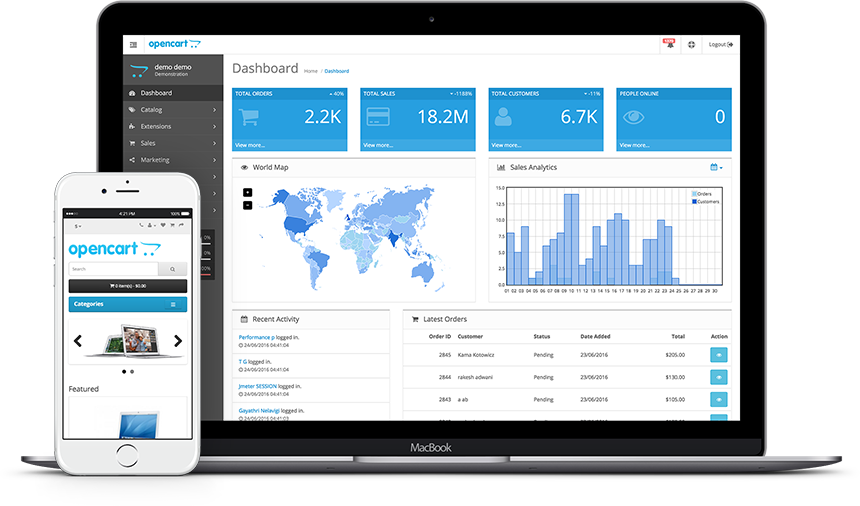 No doubt, the store engine influences too many factors, such as:
Price.

The cheaper the better — hardly anybody wants to pay through the nose to access the market.

Launch simplicity.

OpenCart is suitable for small and medium sized online business and

enables you to easily build and launch an online store in no time without coding.

eCommerce focus.

Everybody understands that it is not easy to create a CMS that can be equally effective for blogs,  news portals and eCommerce. Something always works better and something works worse.

Support.

The thriving eCommerce community around a CMS and 24-hour technical support are good signs. Not to mention

Growth opportunities.

The engine itself will

not

get you so

far. The store needs marketing tools, analytics, and others. It's great if CMS provides a minimum set of such tools, but it's absolutely fantastic if there is a large choice of extensions.  
So why launching an online store with OpenCart is such a good idea?
Advantages for OpenCart Online Stores
Released in 2005, OpenCart was developed for the needs of eCommerce. No doubt, you can launch an online store even with WordPress  but will it work perfectly? It's not difficult to find OpenCart among industry leaders.
Number of active online stores on different platforms, data for 28 July 2016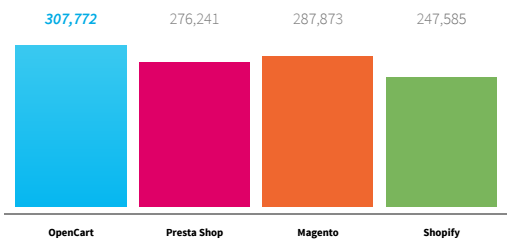 Unquestionable OpenCart advantages are:
Free of charge
OpenCart is an absolutely free. No monthly payments, hidden transactions or things like that. You just install it, choose the template, add your products, and you can start your sales campaign.
Unlimited access
OpenCart has no any limitations, such as quantity of goods  and it's based on the open-source model so you can create a 100% customized store as you like.
Simplicity
OpenCart provides some interesting features that make the entrepreneur's life easier. For example:
Professional themes.

Choose any theme and you can start selling even without fine adjustments.

In-built voucher and discount system.

No special extensions required.

Extensions Installer.

By means of the Extension Installer, you can upload zip-packed extensions as well as single modification files by just a few clicks.

Backup and recovery.

If something goes wrong, you can quickly restore your site database. And again, no need for developers.

Documentation&Help.

Written by the platform developers team, it is really helpful.
The list is not complete, but already indicative — OpenCart offers a wide range of easy to manage features.
Operating speed
Sometimes one assigns the blame to CMS for taking a lot of hosting's resources resulting in the store's slower than expected performance. OpenCart is a completely different story as it works fast even on  weak cheap servers. And it's about an online store containing 20-30 thousand products.
By the way, high download speed matters for SEO and it is important for any site.
Active community
OpenCart has a very loyal and active community, which regularly shares updates, discusses business issues and shares experience.
The OpenCart  community is  very active and fast-growing. As soon as you join  OpenCart forum, you'll understand it all.
Functionality at a low extensions price
One of the advantages is attractive prices for paid solutions (unlike many other marketplaces where similar modules are usually 40-50% more expensive).
The marketplace includes payment gateways, analytics , language extensions, abandoned cart modules, visual themes – all that is usually present on such marketplaces.
There are ratings and filters — so, check out the extension store. It's worth it.
Seamless transition
Even if you already have an online store up and running, moving it to OpenCart is not a difficult task. To migrate your store, you can use the migration tools available at OpenCart. 
48 hours – and you're at OpenCart as if nothing had happened. Check OpenCart online demo here.
The store is ready to sell. So what's next?
As a rule, new stores often experience a "marketing crisis". That's how it looks:
Aggressive marketing is the only right strategy. You face the necessity of the use of email marketing tools, target advertisement, web push marketing, abandoned cart remarketing and so on. They have to attract people and then get as much as they can.
And then the zero hour comes. You understand that all those services are quite expensive and some of them have to be abandoned (or a replacement needs to be found, which is again time-consuming). Even if the prices are satisfying, it's absolutely impossible to use all these tools, as much time is spent to integrate them with your store.
Finally, you look for a developer who can «teach» email marketing tool to add personalized product recommendations to emails, taking them from your store. In addition, a lot of time is required in case all these external services have API for such integrations.
OpenCart solves this problem elegantly, with the help of REES46 marketing automation suit (exists as a separate and a must have OpenCart extension).
Product recommendations.

Trigger emails.

Digest emails and web push notifications containing personalized product offers.

Web push trigger notifications (they are especially good to announce hot deals).

Email subscription forms.

Personalized eCommerce search.

Advertising network with extra-precise targeting.

Customer and subscriber segmentation tools.

Abandoned carts remarketing .

Tools to get real reviews from your customers.
These marketing tools can be used together or you can choose several tools you like the most. But certainly, they work more efficiently as a dedicated toolset.
All this is sauced with niche solutions — all the above-mentioned tools work more efficiently in niches like Baby & Children Products, FMCG, Apparel, Construction & Repair, Сar accessories, Home Appliances, Cosmetics & Beauty Products, Pet Products. If you have one of the above, REES46 extension is indeed worth using.
And let's not forget about the integrated dashboard with analytical reports, widgets, tips. There's no need to switch between ten marketing tools, they're all here!
So explore OpenCart and make the right decision!