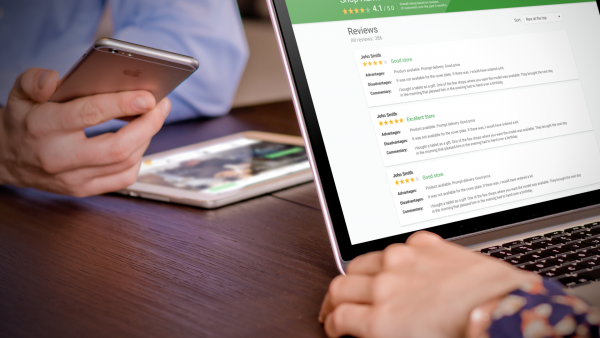 There are more ways to work with customer feedback than you can imagine. Public customer forums used as helpdesks to resolve upcoming issues. Monthly surveys to learn what your customers think about your services. VoC services. Visual bug trackers running online on your website. Google Forms. The list goes on…
What has been lost between the lines? The two activity types essential for effective feedback management:
#1 Gaining Customer Reviews and Seller Rating
It is universally known that consumer deliberately decides to leave a customer review in two situations:
Your services were so impressive that it's important for this person to share the opinion with the public.

A customer found a small (or big) irritating flaw in the product or provided services and longs to share the opinion with the public.
"So impressive" and "small flaw" – do you see the difference? In other words, your chances to receive negative reviews and 1 star is much higher. This is how we all work – taking good things for granted and angrily reacting to every small bad thing. This is in human nature.
One critical detail: negative reviews are often written on public forums or special sites collecting crowd-sourced reviews (like Yelp). What it means for the stores is that they cannot directly manage feedback at any step.
The main goal, in this case, is to stimulate review flaw asking customers to share their opinion about your goods and services. This way you can hope to balance out negative and positive reviews: the more customers leave reviews — the more positive reviews future customers can read to decide to give you a chance.
Besides the obvious materialistic aspect, it helps cover another goal — you will show you care about your clients and their opinion. Acknowledging the customer is the first step towards building a strong relationship and loyalty.
#2 Managing Customer Reviews and Seller Rating
In both senses. Collecting reviews and showing your interest is just the first part of this quest. All that was done in vain if you're not going to work with gained feedback and use it on your website.
The most effective ways of use are:
Product reviews on product detail pages.

Having customer reviews on your website very

positively affects

your online business: KPI's grow faster, conversion raises and so does average order value. Reviews also increase customer return rate.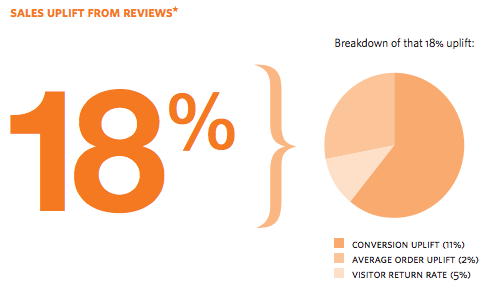 Seller reviews on your website.

Sold products may never have a flaw but the quality of your services may raise complaints. To gain a real insight and improve your situation, create a dedicated page where your customers can write seller reviews.
Product rating.

To form an opinion, a customer must learn about the product in detail. Many consumers either already read everything or are not savvy enough to understand every detail. People are used to relying on other people's opinion — it's faster and spares a lot of effort. Embed star rating to show average product rating.
Seller rating.

Add a feedback service widget to your site to show you have a good seller rating. Customers will also see your seller rating is Google search results: stores with rating inspire trust.
One important aspect: trust is the base of good reputation and customer reviews. If you collect reviews and add a bunch of them to the site, later on, customers will not be able to trust them.
The right tactic is to gain the support of a feedback service. It can be Disqus or Facebook, or better – a company specializing in customer feedback.
Review and rating from this kind of services are able to boost trust level and introduce a growing trust-network with genuine customer reviews. From customers for customers.
We created REES46 Reputation Tool to help online stores achieve all mentioned goals.
Let us share the details!
How REES46 Reputation Tool Helps You to Collect and Work with Feedback
Successful work with reviews and reputation required a certain order of actions. This is what happens when you use REES46 Reputation.

Connection and Configuration
REES46 Reputation Tool is a part of REES46 marketing suite – this is why the first action is to connect to REES46 and activate Reputation & Reviews from the unified Dashboard:

From the Control Panel, you can enable the service by switching the slider to ON. You will be able to find statistics, your average star rating for the past three months and reviews on the same page:

A week after the purchase, your customers get a Thank You email. Below the greeting and congrats, customers will find buttons to rate the store and write a new review:
Thank You email template can be edited from the list of trigger emails (Dashboard → Emails → Trigger-based Emails).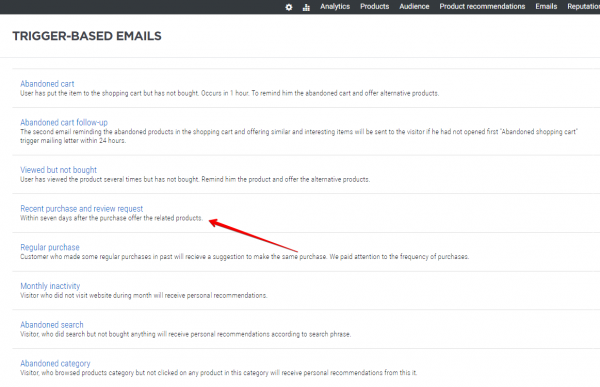 You can create your own message and edit CSS via a simple editor: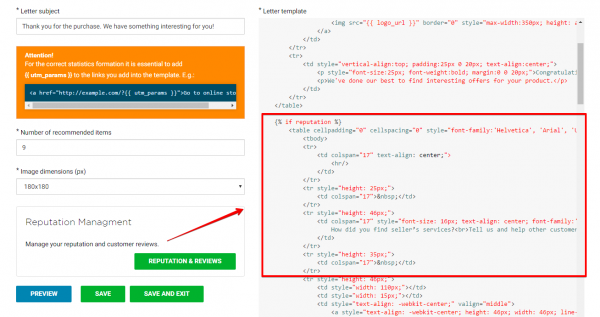 That's it. You can see how easy it is to configure the tool.
Data Collection
After the connection and configuration are done your Thank You email looks like this: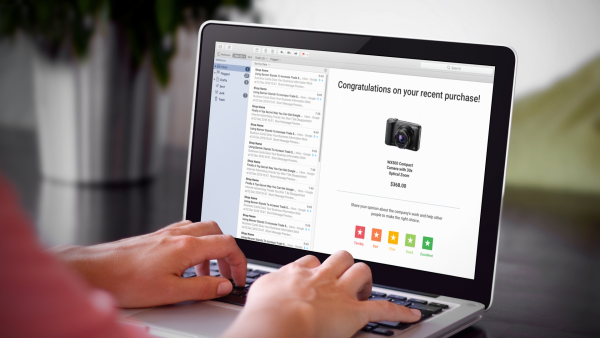 Below the email body, you can see rating widget and personalized product recommendations. If a customer is not in the mood to write a review, recommended goods can still induce more purchases.
Rating your store customer is redirected to a REES46 Reputation page with accessible review forms – place where positive feedback is forged to promote your store. The customer can describe all pros and cons of purchased products and services in details: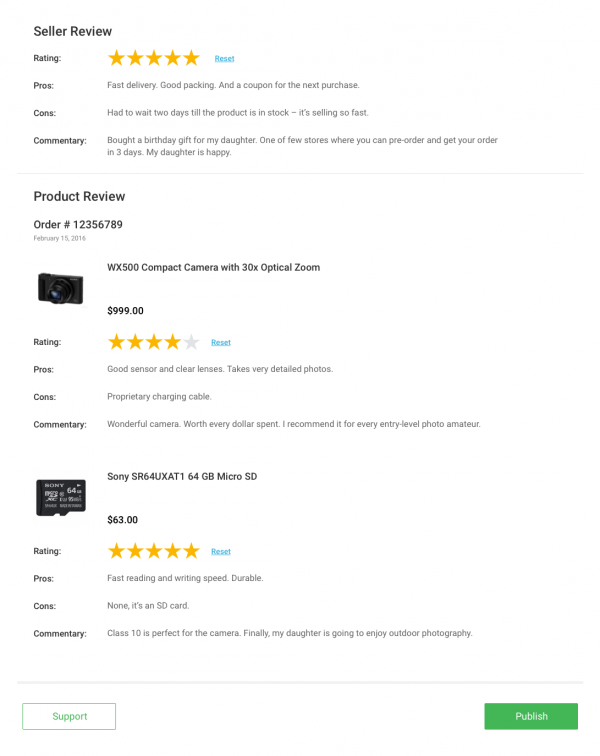 Important:  the customer should be enticed into sharing the opinion to public, not only clicking "Love it" or "Hate it". To gain details and keep the balance, REES46 Reputation features three text fields: cons, pros, and personal commentary.
The first part of the process is finished. Time to work with collected data.
Managing Gained Reviews and Rating
At this step, the store should channel its efforts into two directions.
First direction – timely work out solutions for negative feedback. REES46 Reputation Tool is designed to give the seller 48 hours prior the publication — each time a new review is submitted into the moderation queue, you get an auto-reply from our system.


If you are completely satisfied with the review, you are can authorize it at any given moment.
Otherwise, you can reach the customer and solve the issue with a proper incentive during the next 2 days.
Customers, in return, can edit the review before it has been published (48 hours max.).
The second direction is to embed product reviews into a flypage template (product detail page), seller reviews – into a dedicated page on your site and a widget with general star rating – on your home page.
The widget is a script and is easily embedded and customized to match the main design. Default design looks like this:
Reviews and star rating are also found in the Reputation Control Panel at REES46 — a place where you can check statistics, monitor and sort reviews and see the new ones.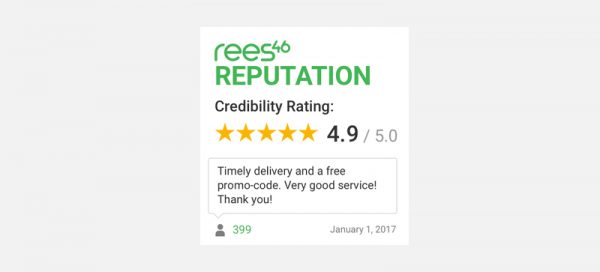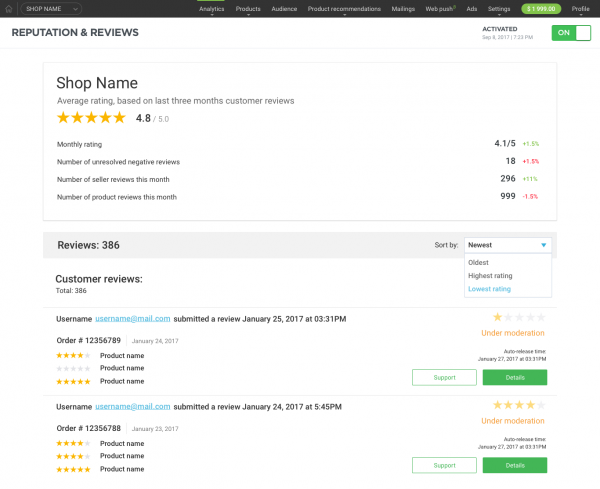 In Conclusion
Feedback Management is a complex and multi-level process. The first step into this wild forest is working with reviews and star rating.
Professional services give the user-obvious advantages:
Guarantee every review is genuine and unsponsored. Only real customer are able to write reviews.

Automated feedback gathering.

Real-time publication.

Advance on positive reviews
If you are thinking of adding customer reviews to your site or write them yourself, it's high time you chose more effective tools. Especially, when turning them on doesn't take more than a few clicks.