Some people call PrestaShop "Opencart's little brother" or "different platform for creating online stores", but the facts are self-spoken. Here is a fact  — PrestaShop is one of the most actively employed platforms for online business. Here is another fact  — 300,000 successfully operating stores are built on PrestaShop.
If these facts sound small to you, here is an infographic — to see… at scale: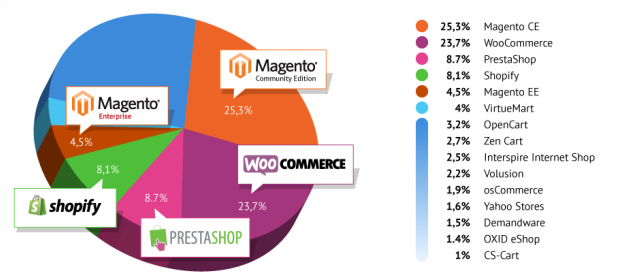 PrestaShop is only the third after Magento and WooCommerce (Host IQ)
What Makes PrestaShop So Well-demanded
Reason #1. Right Targeting
Not to delve into a lot of statistics, let's shape the answer: PrestaShop is made for aspiring entrepreneurs from the Long Tail. Multiple eye-catching well-designed templates make it choice #1 for gworing businesses moving from Joomla to a more sober CMS.
Loot at this — isn't it an eye-candy?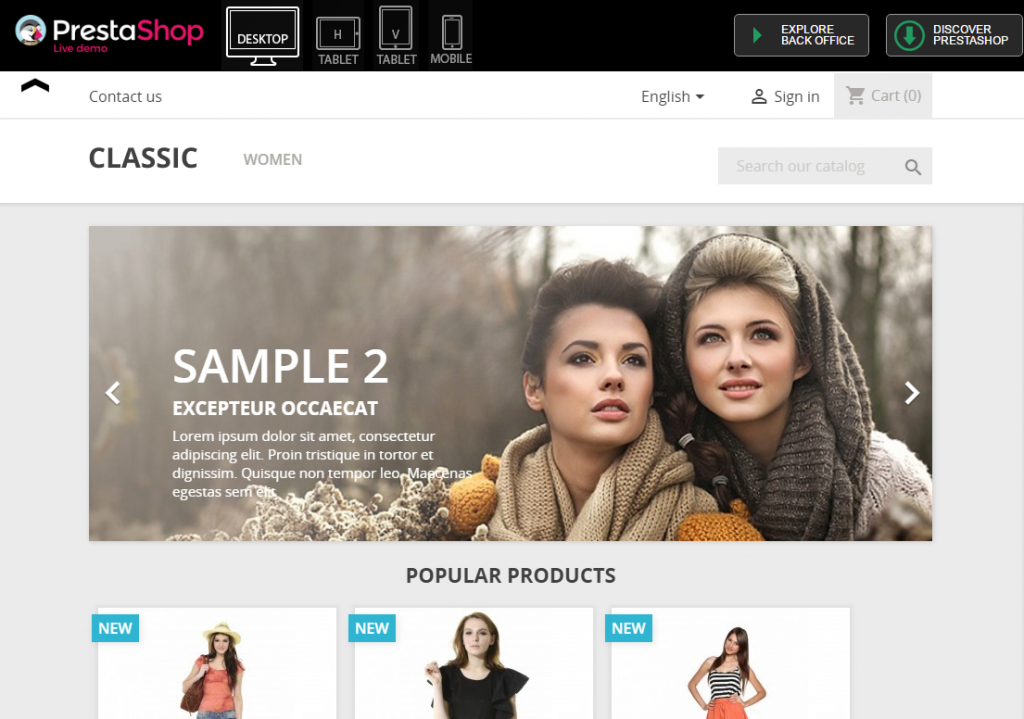 Reason #2. It's Free
Just as said on their site, it's free of charge to use because – "We believe everyone should have the ability to start an online store for free."(c). For this obvious reason a lot of growing online businesses prefer PrestaShop to other CMS's that lack sensible pricing.
Reason #3. No Limit in Product Number
Lots of CMS's can give you a headache with product number limit. Wanna show more products in your catalog  – pay more.
PrestaShop declares an open policy on product number, which makes it ready for store of any size — a hypothetical second Amazon can emerge from PrestaShop anytime.
Reason #4. Eye-catching Adaptive Design
Mobile-ready is the first requirement for any site these days and is the proverbial marketing pillar. If in 2012 mobile users generated only 30% of the traffic, this year metrics show a gigantic increase in mobile users.
Today's leaders in mobile traffic are: Apparel & Accessories – +40%, Consumer Electronics – +40% and Home Appliances  – +45%.
PrestaShop features adaptive design as one of their main assets – it becomes obvious the moment you start with their demo.
They are right to do so because a flexible appealing template is what will make visitor stick to your site like a fly to honey and what gives you better positioning in search results.
Give customization a whirl – with more than 1900 pre-built templates.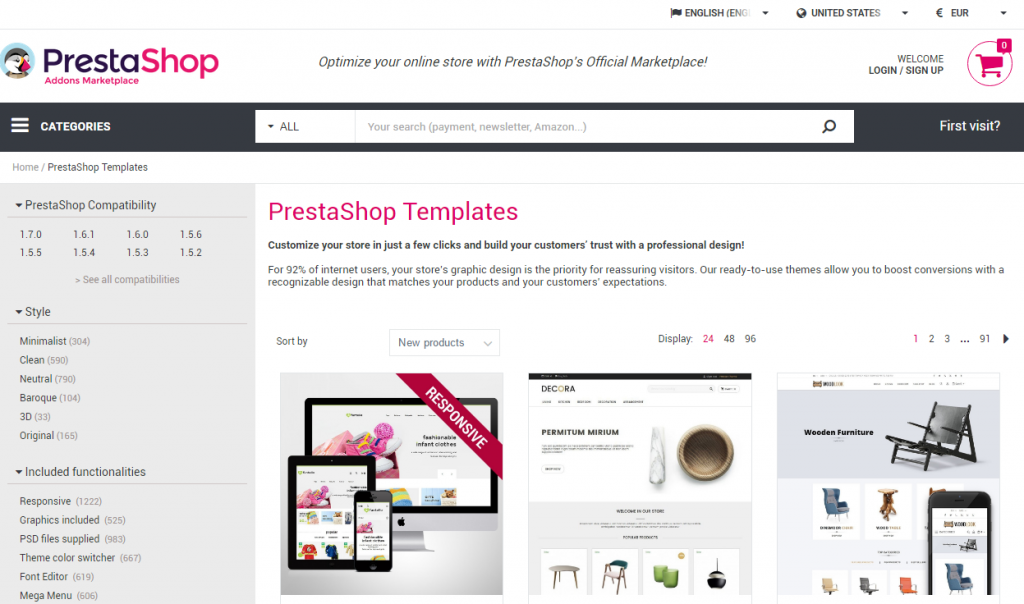 Reason #5. Rich Immediate Functionality
While bare OpenCart lists a mind-boggling number of available extensions (and one could argue if it's an asset at all for the new users), PrestaShop packs up rich functionality for immediate use and needs only a few modules for personal customization.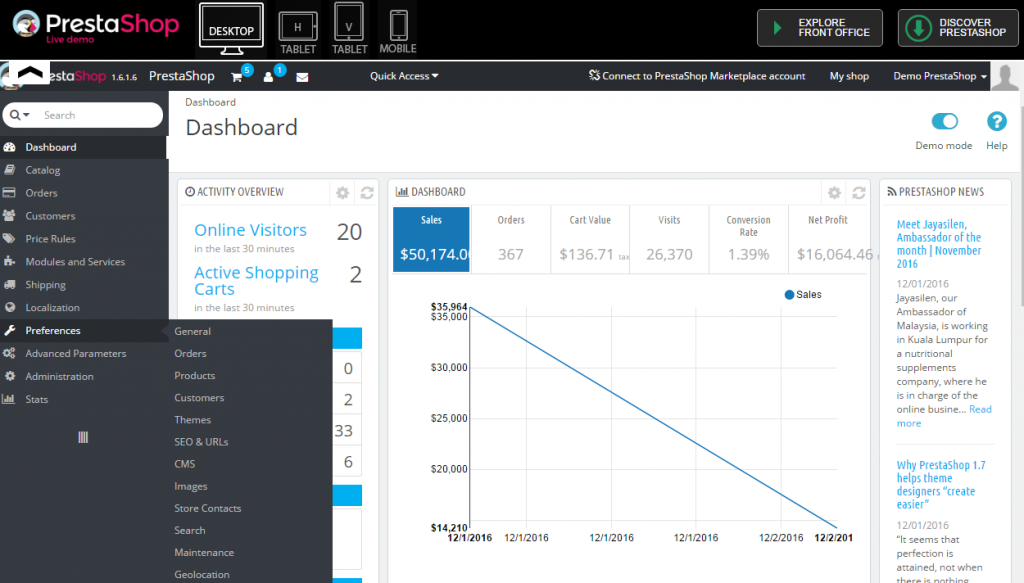 Take a look: sales analytics, order analytics, details on AOV, visits, conversions, SEO-optimization on every level.
Need more? Custom user rights for owner, marketer and other employees. Pre-built payment modules.
The list goes on. A functionality that rich might sound scary if it weren't for the next reason.
Reason #6. Excellence in Ease of Use
PrestaShop is one of the easiest CMS's to manage with its easy-to-grok interface (hello, Drupal!).
With the visual editor that friendly, every step that is supposed to involve programmer skills is shaped up to be a piece of cake. Here is how set-up Shopping Card rules look like – with all the fields, tips and switches: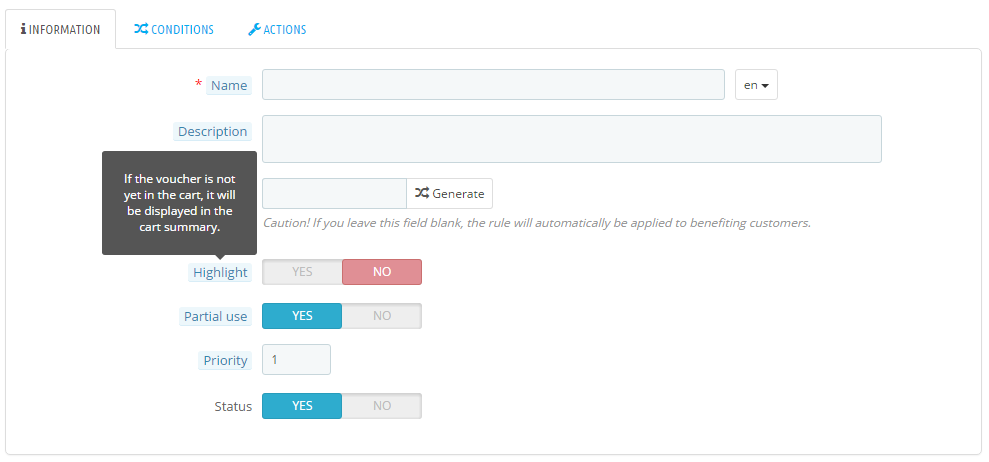 Reason #7. Ultimate Support
Live and growing multi-language communities have been the strongest reason to draw new users to PrestaShop. It even has a lot of tech evangelists – latest years' trend – proving it's on the cutting edge in this field.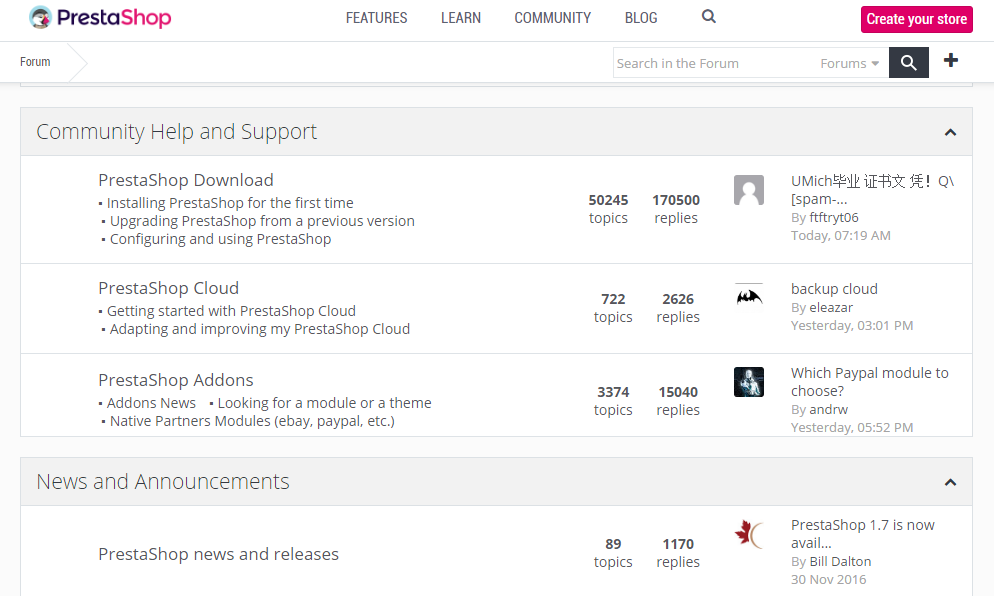 An important element of PrestaShop's support is a worldwide network of web agency partners.
These partners are there to help you asap with any technical issues. Choose the country, field of expertise and you have a complete list of agencies ready for action.

Another key element of PrestaShop's support is the company blog that exists since 2007 to train a businessman in each of us.
Reason #8. Modules for Efficient Marketing
PrestaShop Marketplace features numerous addons to help your store grow. These are quality work.
Among them, REES46 Marketing Automation Module stands out as a live link to full automation of marketing & progressive personalization solution for your store.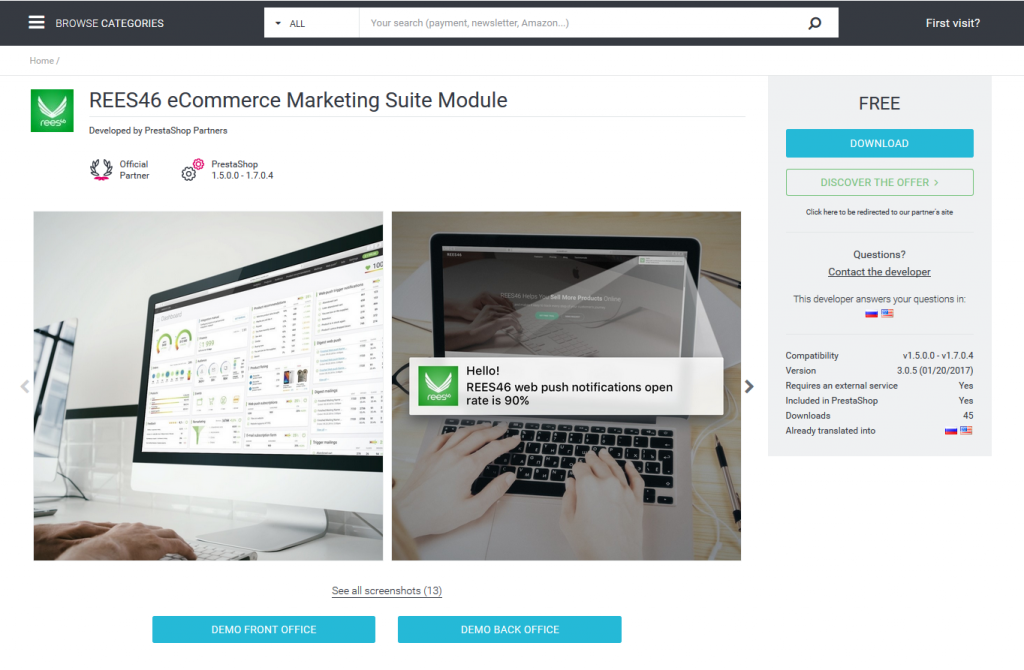 REES46 helps you work up your customers throughout the entire customer lifecycle:
Acquire new leads through targeted display ads in numerous affiliate networks.

Convert more visitors into buying customers with personalized product recommendations.

Automate your email and push marketing with a broad set of trigger scenarios.

Recover abandoning customers with useful remarketing techniques.

Induce repeat purchases with marketing emails and web push notifications.

Segment your audience based on intelligent built-in algorithms or create custom target groups.

Control your every move with comprehensive real-time metrics within a single interface.
Installed in one click right from PrestaShop Dashboard, it's configured in few and ready for superior sales.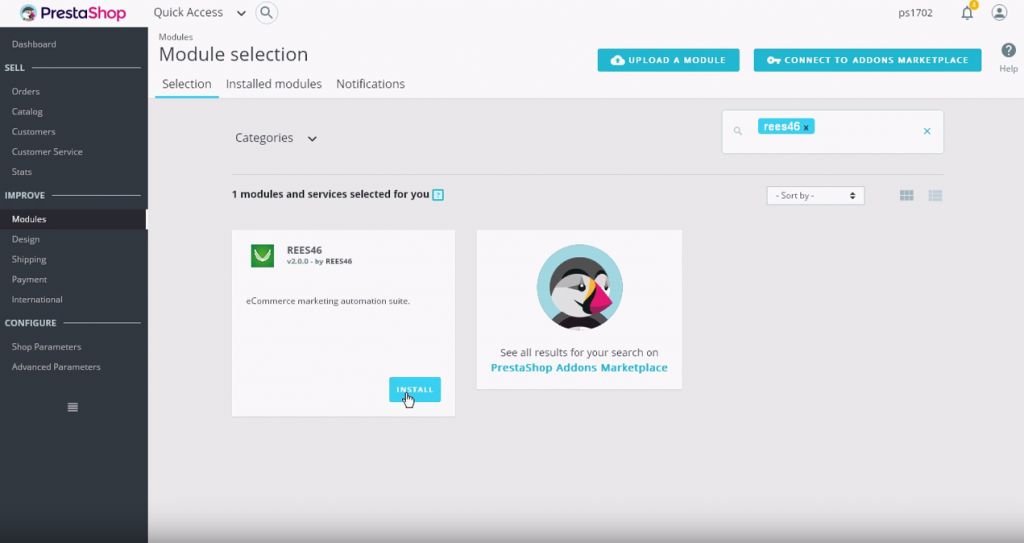 Don't believe, until you see — hit the step-by-step guide for REES46 Module for PrestaShop v.1.5-1.7.