Each customer travels a big journey from a point A to a point B. While the customer is moving from the initial interest in the product to a final purchase decision, the store is navigating the way and keeping the customer excited and wanting to return again. This process is as easy as it sounds if you know the right equipment and have the map.
Let us guide you through the storm of data to a clear know-how of the CLM (customer lifecycle management).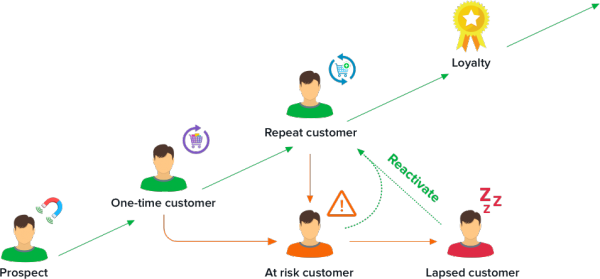 #1. Prospects
Your future loyal customer in search of a right purchase place. At this stage, you're still reaching out to this person.
Stage Goal
Nurture the attention of your prospect and keep it focused on your store.
How-to
Your prospect is yet to form an idea of your store. Draw the attention with:
Content marketing

.

At this stage, your prospect has an uninhibited desire to buy, without a clear picture of the final purchase, and this is where an expert's advice will give this desire a shape and direct the attention to your store. It may be an article in a popular blog read by your target audience, or threads on some related forums.
SEO

. Search optimization draws to your store those customers, whose idea of the final purchase has begun to shape up. They are likely to search for something like "buy HP Pavilion Intel Core i7". SEO works well even for those, who search for "buy laptop discount -20%".
Targeted display ads

. Personalized display ads trace and shape the searches of your customer in Google showing products from your catalog. You stir the wheel inciting the prospect with your products, while this person is digging for the future choice information on a popular portal.
You may, of course, ask: where is the guarantee the prospect will see the dream product? How can you be sure you're not wasting your money on useless gimmicks? And you will be right! Big Data is often not good enough at guessing right. Although combined with Progressive Personalization, Big Data is showing its real power when Progressive Personalization is responsible for real-time tailoring. All the products progressively deduced unfit for the customer, are removed from the recommendations and ads. Furthermore, display ads become CPA-based, which means you stop paying for mere impressions but pay for click-throughs instead.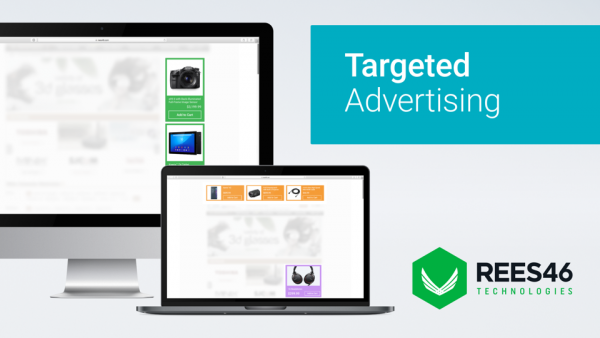 #2. One-time Customers
Now that you've managed to keep your prospect's attention focused on the site, it's time to convert this person into a customer.
Stage Goal
Make sure the prospect finds the wanted product. And if it's not a 100% match, then make sure it's the next best option.
How-to
Real-time customers are very susceptible to:
Personalized product recommendations

. These raise you the AOV through cross- and upsell. To ensure the full performance of the product recommendations, we suggest you stick to the time-tested layout: for instance, "Frequently Bought Together" for the Shopping Cart page. The full scheme is available

here

.
Search personalization

is a weak point of many online retailers. When the search tool on your site also becomes a selling tool, you get a shorter conversion time (one of our clients got –

46%

off it, almost twice as shorter) and your visitors are more contented with their on-site experience.
Seller rating

.

A lot of the prospects focus on the trust issue: should I trust the store and how do I know I can?

To fix the problem, we developed an automated eco-system of customer reviews, where one of the main functions is to provide you with a visual on-site rating widget.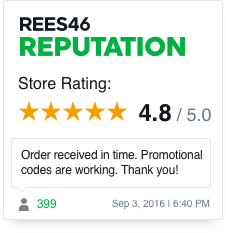 Customer reviews

.

85% of all customers tend

to put their trust in stores that have customer reviews and purchase the product persuaded by these reviews. Imagine what happens with the visitors, who cannot find any on your site, and how many leave your store for another with reviews on-site or in review systems. Where is the guarantee they ever come back to buy anything from you?

#3. At Risk Customers
There is always a chance something goes wrong, for instance, a customer put some products in the shopping cart but then got distracted by the kids wanting a new toy and left your store to search for that toy.
Stage Goal
Recover this customer. Turn this person into a regular customer, if possible.
Statistics tell us if you concentrate on recovering, even a mere 5% of the recovered customers can generate you +25-95% revenue. Big numbers? Difficult to believe? Remember that the recovering is circa five times less expensive than acquiring new customers, and there is always a big number of abandoned carts in every store.
How-to
You lost a real-time customer, with or without an email left. How do you recover this customer? Easy – through the following toolset:
Trigger emails

, namely "Abandoned Cart" emails are one of the most cost-effective ways to automate the recovery process. REES46, for example, reaches your abandoning customers twice, with an initial "Abandoned Cart" email and then with a follow-up if the first one has not been read. You should expect a +

5%

and more increase in the number of orders.
Web push notifications

.

The fastest way to reach and return abandoning customers is to send them a web push notification. Browser-native, it will show even if the tab with your site is closed or the browser is minimized. Its biggest asset is the readability reaching a staggering

90%

. In online retail, time is of the essence, so instant notifications gain more and more popularity.
Remarketing display ads

.

Display ads in affiliate and social networks are not only for the attraction of new customers but are also a useful recovery tool. Showing your abandoning customers display ads with the shopping cart content, you cover the missing part of the recovery map.
Another important side is to count your expenses. The CPA (cost per sale) price model ensures that you get commissioned only for the finalized purchases made through these marketing channels, and REES46 Technologies is a company supporting this model.
#4. Lapsed Customers
Your single-purchase customers, who never came back after (including abandoning customers).
Stage Goal
Remind these customers about at-hand quality products on your site. Induce a new purchase and gain them as repeat customers.
How-to
Much as at the previous stage, emails and web push notifications will help you reach this segment, with a slight difference in the process:
Web push promotions with the most attractive offers

. Web push promotions can instantly reach your inactive customers and are best for the limited-time offers such as flash sales, one-day discount coupons and so on. Native to the browser, these notifications don't have a lag natural to the emails when the letter can be read days after the event. Instead, they hang on the corner of the screen long enough showing in a small popup-like window your logo and your offer.
#5. Repeat Customers
Your loyal customers, who've made several purchases and will return for more in the future.
Stage Goal
Cherish these customers. Gently encourage new repeat purchases. Keep building loyalty.
How-to
At this stage, you will need:
Marketing emails a.k.a newsletters

.

Tell them about new products in stock, new special offers and don't forget about the latest news in the field. It's a good idea to further enhance these newsletters with personalized selections of recommended products to convert them right from the letter.
Status updates through trigger emails

.

Offer your customers updates on product availability and price drops status changes to inform them about the most convenient moment to make another purchase.
Since these are your regular customers and you know their purchase history, it's a perfect moment to introduce them to the automated "You're running out of" emails. Sent shortly before the next shopping session (determined by the smart algorithms), these emails are used for the FMCG (daily consumed goods) and contain a visual reminder with a link to a preformed shopping cart on your site. All what's left is for the customer to click it, change the quantity/amount and pay.

Web push notifications

are a good choice in this case.
Customer reviews & ratings

.

Once your visitor became your customer, you can start building loyalty and introduce this person to the trust network of customer reviews. Words of gratitude for the purchase and an invitation to share the customer experience is just what you need here. For instance, REES46 makes sure each customer gets a Thank You letter with a visual star-rating link inside to click and write a new review. All the reviews, from the moderation queue or published, are found in the Reputation & Reviews control panel for you to post them at will on your site.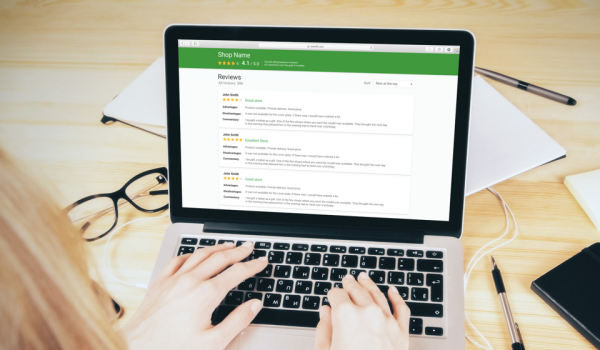 Use the Right Tools
To keep your customer and yourself safe from any pitfalls at each stage, make sure you chose the right marketing tools.

If you're still wondering where you can obtain a whole suite of tools that will cover all your needs and tell you all the metrics and KPIs in real time, it's time to tell you: OMG!!! It's REES46!!