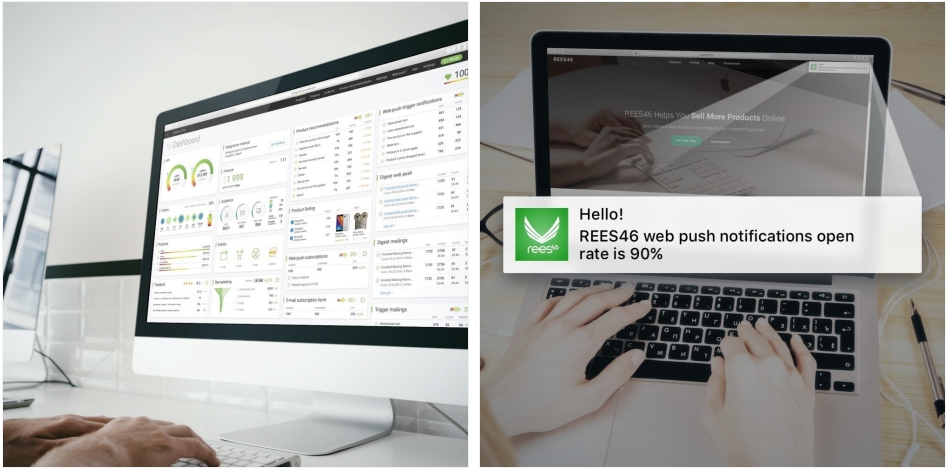 Every marketer dreams about a proper marketing automation solution that can personally tailor the customer experience to the needs of every visitor. All of you know REES46 as an efficient suite of tools (welcome, new blog visitor!) available for a store of any size and niche. Marketing emails, promo web push notifications, behavioral triggers, smart segmentation, dynamic recommendations for product personalization – all that and more is at hand the first minute after the integration.
It gets better – the integration with a PrestaShop-based store itself is a one-delicious-cup-of-espresso deal. REES46 Module supports every version: from 1.5 to PrestaShop 1.7. The installation process is fully automated. Everything you have to do is to register or authorize by REES46. All the rest has been automatically done by the module.
Every KPI and marketing tool is available in real time from a single smart interface. Instead of 6 opened tabs and 4 more you forgot about, here is an open door to the world of successful business growth.
Meanwhile, let's get back to Presta. This CMS is well-known as one of the most popular platforms for mid-sized and small online businesses. Presta is also famous for its "out-of-the-box" usability even without any add-ons. Every day it gets new users, new small and mid-size businesses and new modules. And every that business strives to reach for the best installing a PrestaShop module. Many choose us as an official PrestaShop partner with proven cases of success.

Despite its popularity, PrestaShop chooses to limit its users in the number of available add-ons, depended on the country of residence.
For instance, REES46 Module may not be available in some countries.
If you are a lucky resident of one of the countries where the REES46 module is available straight from the Marketplace, we are welcoming you to watch this easy video installation & configuration tutorial. You will learn in details how to fast and painlessly integrate REES46 with your store and to start using our marketing tools.
In case you are rummaging through the Marketplace in search of the Module with no avail, you can always rely on us solving this puzzle for you. In manual mode. 😉
So, what do you need to do to install REES46 Module in manual mode?
Download

this archive

and unpack it at a preferable place on your PC using WinZip(PC), StuffitExpander(Mac) and so on.*


* If your hosting has a built-in archiving software and the option

Unpack

is available right from your Administration Panel (hosting, not PrestaShop), you can upload this *.zip archive and unpack it right on your server.

In case you chose to unpack the archive locally, on your PC/Mac, upload the content of the folder upload

to the root web directory of your store. You can do that via such FTP clients as FileZilla, TotalCommander or CureFTP.

When the files are on the server, open your PrestaShop Administration Panel

and navigate to the

Modules

.

In the available module list find REES46

(e.g. using the search bar) and click

Install

.
Voila! Now you can watch our educational screencast we included to properly configure the Module for PrestaShop personalization.
If you still have any questions or got new ones in the process, drop us a line via Intercom, and we'll be happy to answer them and, if requested, give you a personal consultation on what REES46 tools you need at your current stage of business development and marketing plan.