Marketing automation and&nbsp personalization suite
for apparel and accessories online retailers
About
Progressive Personalization technology in real time determines individual characteristics of each buyer to help your customers move forward with their purchase.

Gender

Clothing size

Shoe size

Body shape

Brand loyalty
The system learns customers' parameters based on their behavior in real time, adds them to customer virtual profile and dynamically removes products that the customer will never buy because of individual parameters.
PERSONALIZE EVERY STAGE OF THE CUSTOMER LIFECYCLE


Acquire

Targeted Advertising
Display your ads to the right audience using extended contextual, demographic, and behavioral parameters. Improve targeting with niche-specific parameters.

Convert

Personalized Product Recommendations
Increase your conversion rate and AOV (Average Order Value) with more personalized customer approach through individually tailored product recommendations.

Personalized Product Search
Improve customers' search experience by personalizing search results based on individual parameters.


Bring Back

Abandoned Cart Remarketing
Engage customers who dropped their carts using responsive and non-intrusive banners. Pay only for the sales we help you make.

Triggered Emails
Bring back hesitant visitors and turn them into buying customers using triggered emails and grow your daily orders by 5%.

Triggered Web Push Notifications
Send triggered, personalized web push notifications to your users, even when they left the website.


Re-Engage

Emails with Personalized Product Recommendations
Send emails with personalized product recommendations to your customers to increase CTR up to 28%.

Regular Web Push Notifications
Instantly deliver special offers and hot sales reminders to your subscribers even when they are not on your site.


Gain Loyalty

Gather Customer Feedback
Turn customer reviews and feedback into a sales tool. 61% of all customers base their purchase decision on product and seller reviews. REES46 helps add reviews to your website and turn it into a trust-network.


All Under Control
REES46 offers you a wide range of tools for personalized communication with customers to optimize engagement and grow revenue.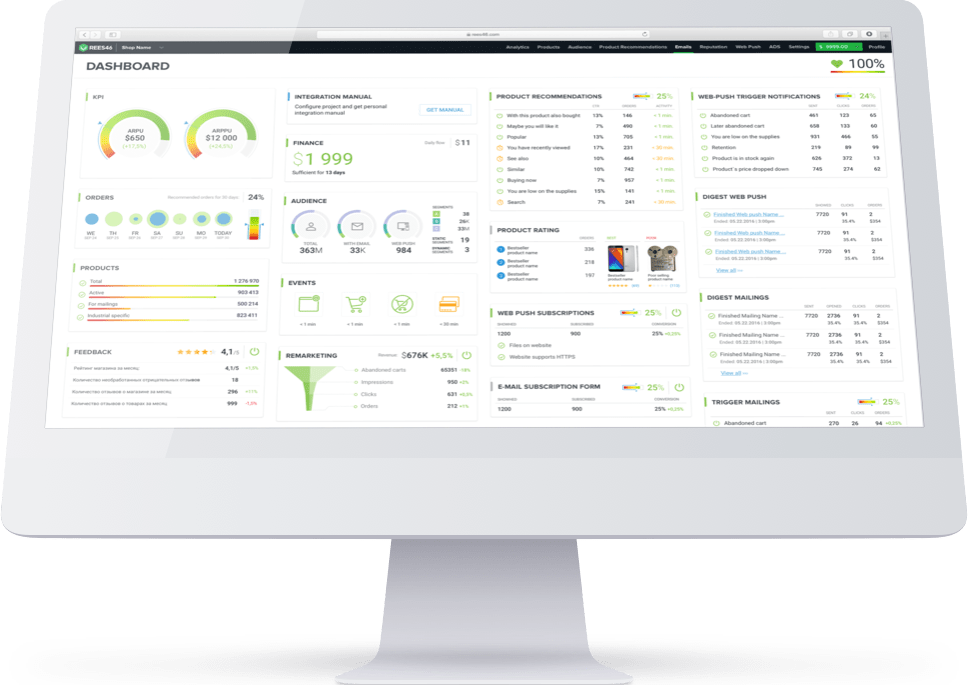 Quick and Easy Integration
In a simple few clicks, install REES46 plugin onto your store built on a popular CMS.
You're in a Good Company
REES46 is trusted by online retailers and brands around the world.
Ready to begin?
Sign up and take your marketing to a new level.