Convert
Personalized Product Recommenda­tions
Your store automatically adapts to each client, offering products that precisely suit his or her requirements. It boosts conversion into sales by at least 18%.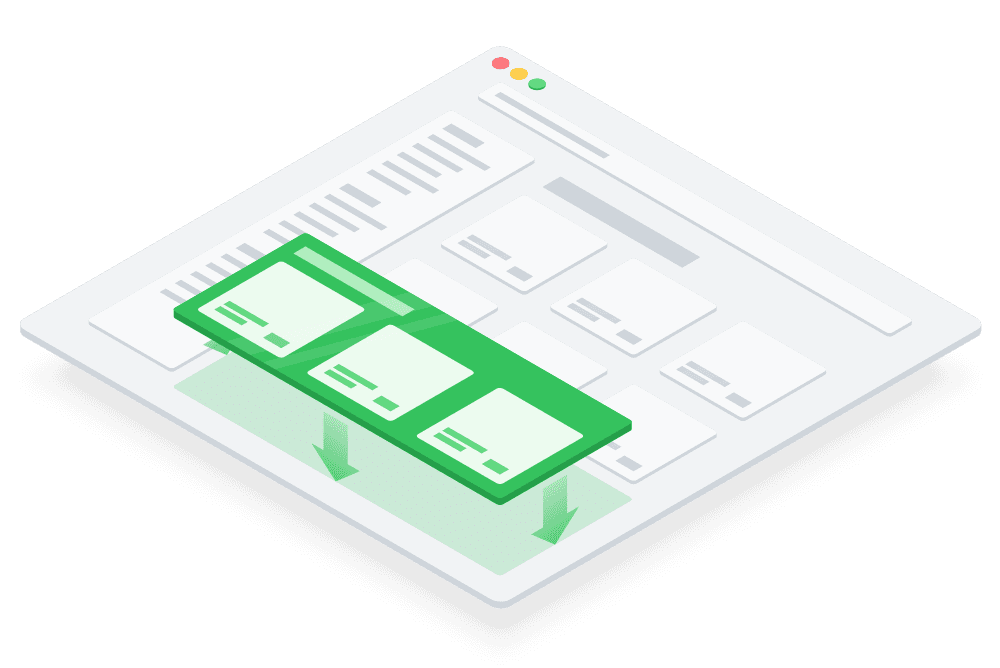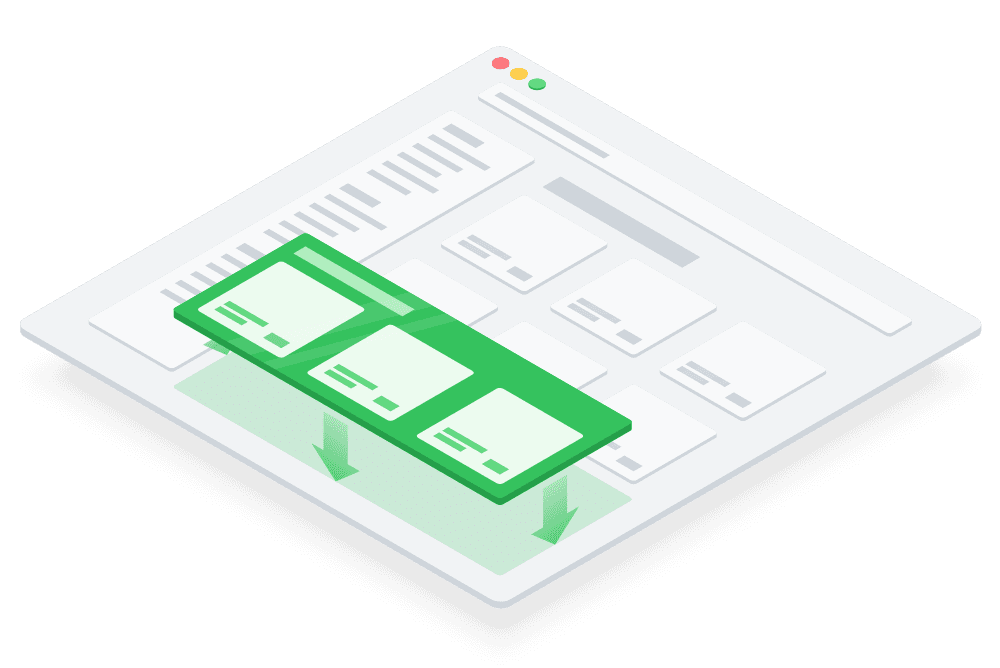 Ready templates
Choose recommendation algorithms you need, place it on any pages. Control the efficiency of blocks in the dashboard.
Popular products
Buying right now
Last seen
Will be interesting
See also
Similar products
Products related to this item
Customers who searched for this item also bought
Regular purchase
It is easy to create your own algorithm
It is not necessary to use only prebuilt scenarios. Choose which products should be shown to each segment, manually select corresponding filters and publish your recommendations on any pages of the site.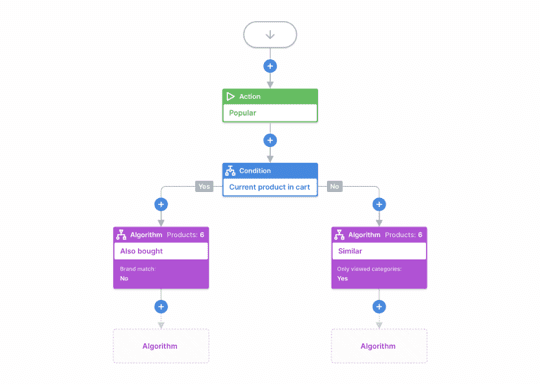 Create logic
Set working principles for the block in the visual editor, which is not harder than drawing block diagrams on a white board.

Adjust output
Choose how many products will be displayed in the block, enable filters — by brand, by category, by product type and scores of other conditions.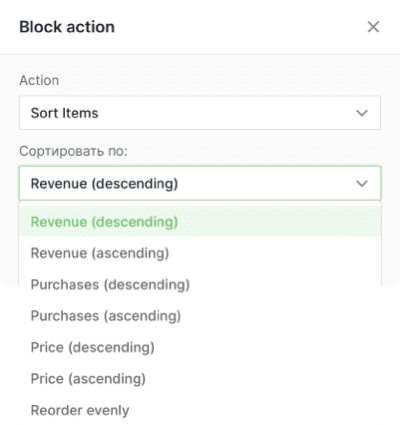 Enable sorting
Decide on the order of display of personal recommendations within the block.
Performance approach
You will be able to test various scenarios and get comprehensive and transparent reports on the tool performance.

Monitor block KPIs
You will see comprehensive statistics: number of views, clicks, purchases per block, as well as average check and returns from sales.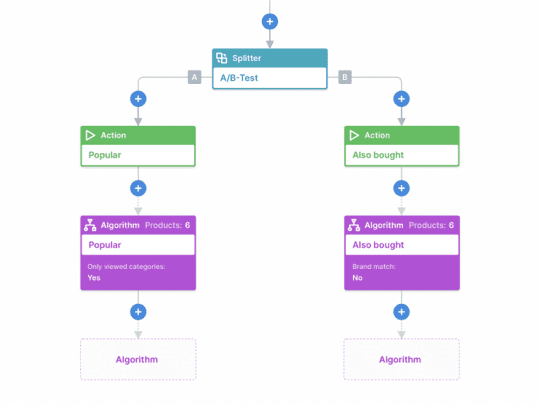 Launch A/B tests
It can be easily done without developers: you just click on the button, set conditions, monitor KPIs.
Keep the best version
You'll see comprehensive test results and find out which scenario works better.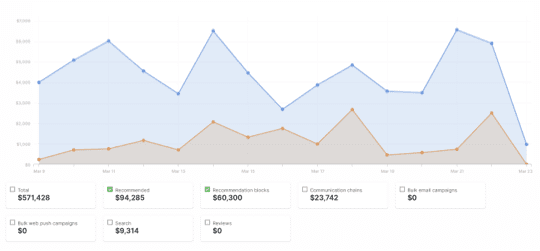 Count income
Evaluate total returns brought by the tool in any given period.
Niche-specific customization
Owner of 40 cats does not need dog food. Show your guests what they are ready to buy: sector-specific personalization will take care of that by automatically filtering out unsuitable items.

Gender

Age

Shoe size

Clothing size

Skin type

Hair type

Allergy

Loved brands

Pets

Kids

Car model

Average income
Three levels of personalization
Use personalization levels to take into account all peculiarities of your business and to make even more sales.
Machine
Basing on Big Data analysis a software algorithm selects suitable products for each buyer, automatically increasing his or her cart value and the average check.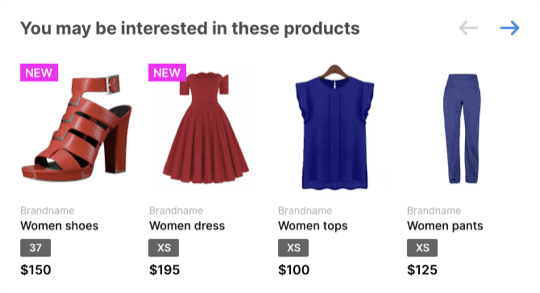 Niche-specific
Recommendation blocks are adapted to specific features of each economic niche: peculiarities of products and buyers are taken into account. The store recommends products of suitable size, color, and model.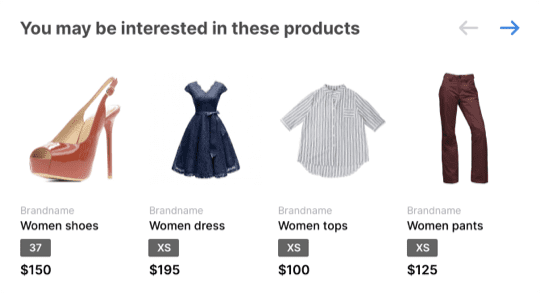 Individual
You set recommendation display conditions, test various assumptions, keep the most efficient scenarios. No programmers or extensive development are needed for the tests — their launch takes just a minute.
You're in a Good Company
REES46 is trusted by online retailers and brands around the world.
Ready to begin?
Sign up and take conversions to a new level.